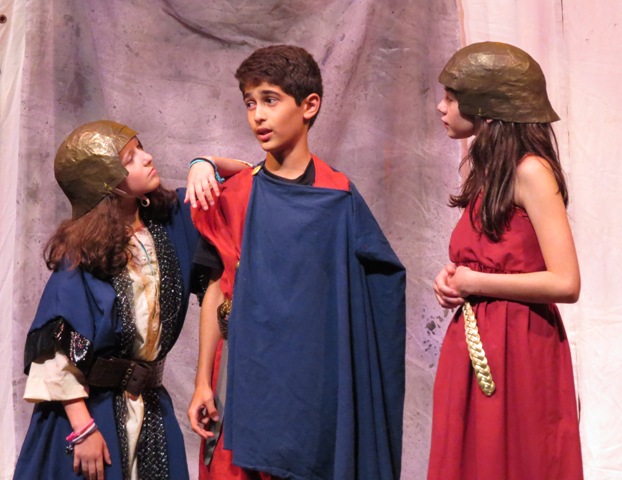 There are a lot of different ensembles at Traveling Players, and we want to help you find the best fit. Here are some tips, depending on what grade you're in.
Current 3rd graders
Join us for our special one-week Acting Sampler, a perfect introduction to theatre, the outdoors and the wonderfully supportive TPE community.  Offered three times throughout the summer!
Current 4th graders
For a single week of summer fun, select the Acting Sampler.  For the chance to put on a full play, check out the two-week Mythology Ensemble: take your skills from the Acting Sampler to the next level and build characters, learn parts, and perform on the big stage, all while learning about ancient theatre and mythology.
Current 5th-6th graders
You've got a lot of options, depending on how long you want to be with us.  Want just one week? Try the Acting Sampler (not open to 6th graders, sorry).  Interested in being part of a show?  Go with the Mythology Ensemble.  Or, if you're ready to commit, you could sign up for the full 4-week Middle School Ensemble.  You can also do both to get more TPE in your summer: Mythology is a great prep for Middle School.
Current 7th graders
Middle School Ensemble is the place for you. For a totally TPE summer, sign up for both sessions to be in both shows. 

Current 8th graders
There's a reason we call this the "choice year". You can sign up for Middle School Ensemble, High School Ensemble, Technical Theatre, or you can even audition for Commedia Troupe. How will you ever make up your mind? We have a whole web page detailing all your options.
Current 9th-12th graders
Here, the choice really is more about what you want out of your summer. Want to have a high-intensity Shakespeare experience, sharpening your classical skills? High School Ensemble is perfect for you. Prefer working behind the scenes?  Go with Technical Theatre.  More interested in improvisation and physical comedy? Try Commedia Troupe. Ready for a major commitment, rigorous rehearsal and a two-week tour? Traveling Troupe is the way to go. Want to spend the whole summer at TPE? Try either Traveling Troupe or the High School/Commedia double session.
If you're still not sure where you belong, you can always ask us for advice at 703-987-1712 or info@travelingplayers.org.