Take the show on the road as part of a four week or seven week technical theater summer camp! Learn from professional designers to create sets, props, and costumes for up to four different shows, then take a show on tour to perform in outdoor venues across Virginia!
Technical Theatre campers concentrate on the scene shop, costume shop, or learn the elements of stage management. Technical campers receive individualized, hands-on training in all aspects of construction and production for outdoor theatre.
For current 8th – 12th graders
Information below is for summer 2019.
Summer 2020 registration opens December 1st for returning campers, and January 1st for new campers.

• • •
The Training
The Adventure
The Play
Tuition & Details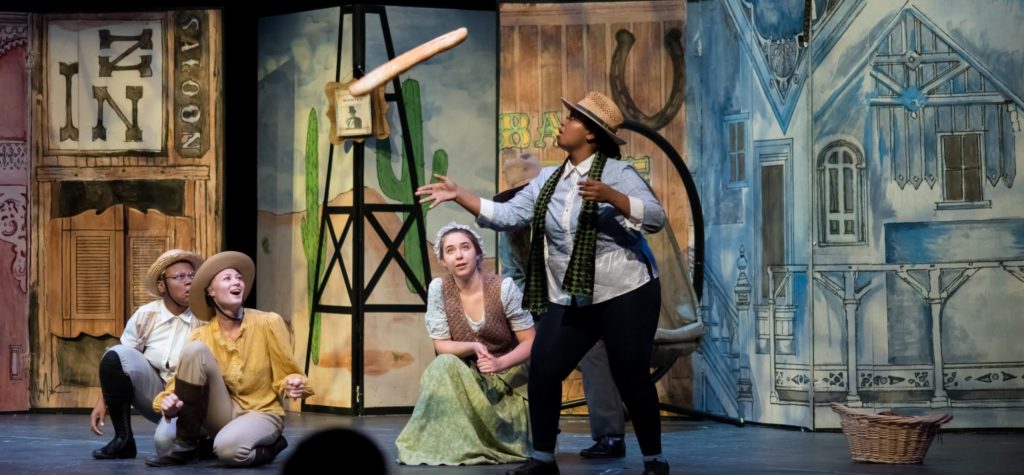 • • •
Join the ensemble for our rigorous seven week program, Traveling Troupe!
for current 9th – 12th graders
By interview only.  
Camp Dates: June 24 – August 10
On Tour: July 29 – August 10
The Training
While other campers are rehearsing, you're painting, sewing, or helping run rehearsal! Tech campers take the bus, play games during morning revels, camp out on overnights, and go swimming on Friday afternoons with the rest of camp.
Traveling Players summer camps and classes always offer expert training. But a typical day at camp isn't just about painting or sewing! Our talented faculty teach daily classes in subjects that help round out the campers as artists and as students.  
We also value the spirit of the ensemble. Our ensemble- and team-building adventures create a strong, supportive cast and friendships that will last a lifetime. We teach leave no trace camping, go on ropes courses, and camp out every Thursday night.
The Adventure
After five weeks of rehearsals, you'll pack up your bus and hit the road for a full two-week tour through Virginia.  Along the way, you'll go camping, hiking, white-water rafting, and exploring in Colonial Williamsburg.  All this before returning for a final performance festival for family and friends!
Techies accompanying the Traveling Troupe get the experience of mounting a full professional-level touring show.  The techies are vital members of the team, helping with set up and strike, and working with the staff to run lights and sound in a variety of environments, from outdoor spaces like the gorgeous Lime Kiln Theater to state-of-the-art spaces like Colonial Williamsburg's Kimball Theater.  All this, plus outdoor fun, hiking, exploring, and creating memories that last a lifetime!
The Play
This summer, the Traveling Troupe performs Twelfth Night.
Tuition & Details
You could get up to 24 community service hours for the performances that we donate to underserved audiences. Traveling Players is a registered nonprofit. IB Theatre students can claim hours for creativity, activity and service.
When our daughter did the sound for a local theater production, many of the group from last summer at TPE went to provide moral support and appreciate the technical aspects of the production, a level of maturity and insight beyond her public school circle.

– Parent