8th Grade: The Choice Year
8th graders have choices at Traveling Players!  You can sign up for almost all of the available camps.  How will you ever make up your mind?  
Here's a list of your choices, along with our recommendations: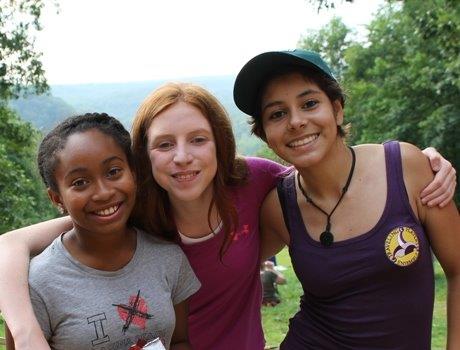 We recommend that you stay in the Middle School Ensemble as long as possible.  Get juicier roles, be a leader of your ensemble, get individual direction, and really hone your skills.
The best place if you already know that you love Shakespeare and camping! Take the show on a longer tour, work with juicy Shakespearian language, and experience a whole new challenge.
Physically demanding rehearsals and a long tour can make Commedia Troupe a hard place for a rising 9th grader.  However, it's the right place for some campers; if you're up for a real challenge, you can audition and we'll let you know if we think you're ready. Don't worry, our auditions are really fun! (Audition FAQ)
Love being behind the scenes? Build, sew, paint, and go on tour with one of our ensembles!
Middle School and High School Double Session
"The Choice Year Special" – Get the best of both worlds: be a leader in the first session and then move on to the joys and challenges of Shakespeare in the second session.  A very popular choice for a very well-rounded summer!