Winter Performances: Players
This performance class mounts a play using a tight ensemble of elementary school actors. The play will be professionally directed and fully produced — with a custom-designed costume delivered to your door, a "Zoomologist" to help with tech, a virtual background set, and filmed vignettes integrated into the play. The public performance is part of our March Madness Festival.
This innovative class is for experienced performers as well as less experienced actors who are eager and dedicated.
For current 4th – 6th graders.
LIMITED AVAILABILITY: Cast size is limited to 11 performers. We recommend registering for the first audition you can attend.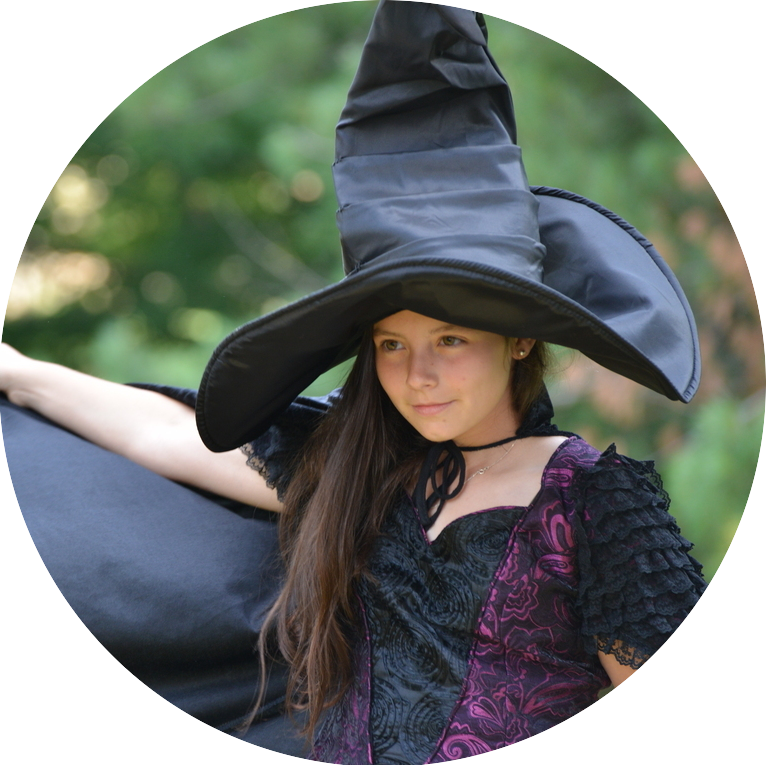 AUDITIONS
November 7 & December 19, 7:00 pm — 8:30 pm

Register for either audition by November 23 at midnight to claim the Early Bird Discount!
REHEARSAL & PERFORMANCE
Saturdays & Sundays, January 9 — March 21
WINTER 2021 — WE'RE STILL VIRTUAL!
Small by design. Awarded for excellence.
Not just skills — a full production! And a community!
Read more here.
The Play
Beanie Boren, a science wiz who is not keen on reading, has designed a book reading machine for the science fair. It combines a computer, a mini video cam and a contraption of his own design to enable one to read three books at once. Unfortunately, the machine is neither user friendly nor bug free. When Beanie turns it on, lights flash, thunder booms and out pop the witches from Snow White, Hansel and Gretel and The Wizard of Oz, each set to wreak havoc! Beanie must get them back into the books with help from the good guys in the same stories. Afterward, he is eager to read about his new friends — the old fashioned way.
The Audition
Our Winter Performances require an audition to enroll.
There's no need to prepare anything in advance! You'll read from the script and play improvisation games.
There's a $20 fee for the audition.
No need to stress out about the audition! We create a playful and supportive environment where returning Traveling Players can reconnect with friends and newcomers can be welcomed to our community. Over the course of the audition, you will read from the script as well as take part in improvisations and discussions. Our community develops acting skills in an environment noted for its work ethic, creativity and kindness.
We've been told that Traveling Players auditions are the most fun auditions our students have ever attended. We intend to keep it that way.
Auditions are binding, meaning if you are accepted, then you must enroll. If you attend auditions and discover Traveling Players is not the ensemble for you, then please email us within 24 hours after the audition to withdraw your audition.
The Training
Our rehearsals will include text analysis, acting exercises, movement workshops and improvisational games that explore the world of the play. The class is appropriate for experienced actors as well as eager and committed newbies.
Traveling Players summer camps and classes always offer expert training in acting, character creation, physical comedy, stage combat, improvisation, and text analysis. We also value the spirit of the ensemble. Our ensemble and team-building activities create a strong, supportive cast and friendships that will last a lifetime.
Our kids have taken classes year round. We have not found a better acting program. Our kids have built lasting friendships with the staff and fellow campers.

— Parent
Tuition & Details
Dates: Saturdays & Sundays, January 9 — March 21
Cast Size: 11
Director: Molly Kaufman
Assistant Directors: Yael Schoenbaum (Saturdays), Will Frierson (Sundays), and Emma Mearns
Designers: Jeffrey Hales (scenic) & Delaney Theisz (costume)
Tuition: $800 ($850 after the Early Bird Discount flies away November 23 at midnight)
Same price as last winter — double the rehearsal time!
Any gift card balance from Summer 2020 counts towards this class! You can check your balance at any time here.
Includes professionally designed costumes & props (delivered to your door) plus a virtual set!
Tuition may be split into three installments (deposit, Jan 1, Feb 1). A $20 administrative fee applies to this payment option.
6th graders have choices at Traveling Players! You can choose to either age up into the older age group, or stay and be a leader in the younger age group – either way you're sure to have a ton of fun!
If you're new to theatre, or you just finished the Acting Sampler Week or the Mythology Ensemble, we recommended that you stay in the 4th– 6th grade program. Most of your friends from the summer will be here and you will work with many of the amazing teachers you already know and love.
If you're looking for a new challenge, or if you were a part of the Thespian Ensemble we recommend that you join our 6th-9th grade program.
If you're auditioning for the Winter Performances but don't know which group to choose, please attend the Thespians audition. During registration, you'll be able to opt in to simultaneous consideration for the Players group.
If you have any questions about which program would be perfect for you please call (703-987-1712) or email (campdirector@travelingplayers.org) us and we will be more than happy to help you find the best fit!
What's a Pod? To fight the social isolation kids are feeling right now, some parents are choosing to "take camp" with another family. Both kids would be at one house with their laptops and headphones, either inside or outside. During breaks, they could kick a soccer ball, eat brownies, walk the dog, or help each other memorize lines. They could be at the same house all the time, alternate houses, or only Pod certain days of the week. We're calling these extended families "Pods!"
Form a Pod! If you're interested, just let us know (campdirector@travelingplayers.org) and we'll connect you to another family who is similarly interested. Then you can discover if you are both comfortable with the level of exposure in relation to coronavirus, if you live close to each other, and other logistics. We recommend keeping your Pod tight and consistent, and taking appropriate precautions as outlined by the CDC.
Separate Studios: Already have two or more campers in your home? Congrats! You already have a Pod! If the campers are in different ensembles, then they should each have a Studio of their own (separate rooms, trading off with one person working inside and the other outside). If campers are in the same ensemble, than they can work in the same room but each camper should wear wireless headphones to avoid feedback while still allowing the campers freedom of movement.
He has told me it's the 'best camp ever' and has been hyper with excitement all week long. After being bummed about being stuck inside with the pandemic and sad about isolation, this is a very welcome change! Thank you for lifting my little boy's spirits!

— Parent