Winter Performances: Dramatists
This performance class mounts a play using a tight ensemble of high school actors. The play will be professionally directed and fully produced — with a custom-designed costume delivered to your door, a "Zoomologist" to help with tech, a virtual background set, and filmed vignettes integrated into the play. The public performance is part of our March Madness Festival.
This innovative class is for experienced performers as well as less experienced actors who are eager and dedicated.
For current 9th – 12th graders.
LIMITED AVAILABILITY: The cast is strictly limited to 10 performers. We recommend registering for the earliest audition that you can attend.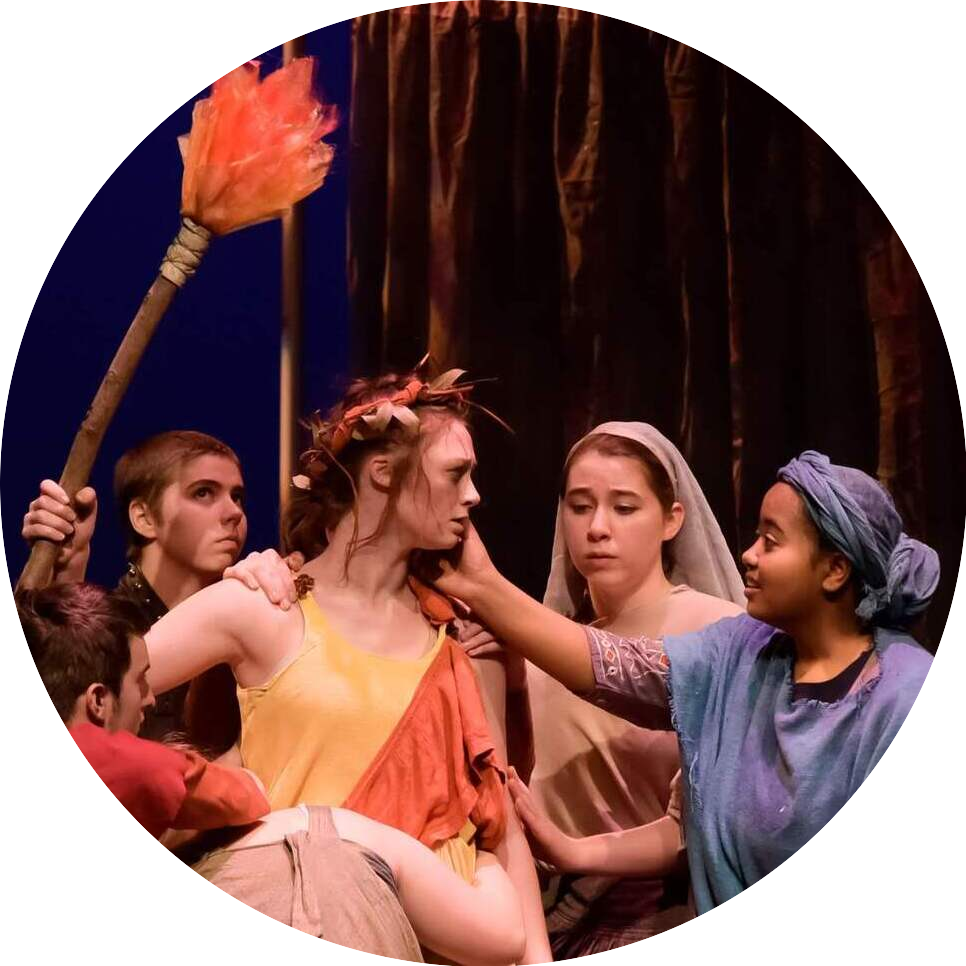 AUDITIONS
November 7 & December 19, 7:00 pm — 9:00 pm

Register for either audition by November 23 at midnight to claim the Early Bird Discount!
REHEARSAL & PERFORMANCE
Saturdays & Sundays, January 9 — March 21
WINTER 2021 — WE'RE STILL VIRTUAL!
Small by design. Awarded for excellence.
Not just skills — a full production! And a community!
Read more here.
The Play
Jean Anouilh's play Antigone adapts the Ancient Greek tragedy of the same name, written by Sophocles in the fifth century B.C. Just as in the myth and original play, the action follows the Battle of Thebes, in which both of Antigone's brothers have been killed. Creon, now king, has decreed that while Antigone's brother Eteocle should be given the usual respectful burial, Polynices must be left as carrion for scavengers. Antigone chooses to attempt to bury Polynices, and is brought before Creon as a prisoner. Creon attempts to overlook the offence, perhaps because Antigone is engaged to his son Haemon, but Antigone refuses to be denied the responsibility for her actions. Anouilh's adaptation makes this ancient tale fresh, Sophocles' characters relatable, and the struggle for justice palpable.
The Adventure
The program will culminate in a professionally produced public performance on Zoom.  We will also test-drive the improved Zoom technology — now giving us control over where actors appear.  We are on the forefront of a new theatrical medium!
Director Jeanne Harrison received ArtFairfax's 2016 Strauss Award for her integration of classical and physical theatre. Ancient Greek tragedy is one of her specialties; she has lead workshops on the Greek chorus at conferences in England and the US. This play will allow us to delve into advanced acting technique for both comedy and tragedy, as Anouilh's adaptation includes several Commedia dell'Arte zannis. We have combat scenes and touching moments to bring to life. We will film some scenes, learning about acting for the camera.
The Audition
Our Winter Performances require an audition to enroll.
There's no need to prepare anything in advance! You'll read from the script and play improvisation games.
There's a $20 fee for the audition.
No need to stress out about the audition! We create a playful and supportive environment where returning Traveling Players can reconnect with friends and newcomers can be welcomed to our community. Over the course of the audition, you will read from the script as well as take part in improvisations and discussions. Our community develops acting skills in an environment noted for its work ethic, creativity and kindness.
We've been told that Traveling Players auditions are the most fun auditions our students have ever attended. We intend to keep it that way.
Auditions are binding, meaning if you are accepted, then you must enroll. If you attend auditions and discover Traveling Players is not the ensemble for you, then please email us within 24 hours after the audition to withdraw your audition.
The Training
Our rehearsals will prepare us well, with analysis of contemporary and classical language, acting exercises, movement workshops and improvisational games that explore the world of the play. The class is appropriate for experienced actors, as well as for those just being introduced to the classics.
Traveling Players summer camps and classes always offer expert training in acting, character creation, physical comedy, stage combat, improvisation, and text analysis. We also value the spirit of the ensemble. Our ensemble- and team-building activities create a strong, supportive cast and friendships that will last a lifetime.
My growth as an actor was immediately evident when I returned to school.

— Student
Tuition & Details
Dates: Saturdays & Sundays, January 9 — March 21
Cast Size: 10
Director: Jeanne Harrison
Assistant Directors: Jeffrey Robb and Jenay Naima
Designers: Jeffrey Hales (scenic) & Delaney Theisz (costume)
Tuition: $1000 ($1050 after the Early Bird Discount flies away November 23 at midnight)
Save $300 from last winter!
Any gift card balance from Summer 2020 counts towards this class! You can check your balance at any time here.
Includes professionally designed costumes & props (delivered to your door) plus a virtual set!
Tuition may be split into three installments (deposit, Jan 1, Feb 1). A $20 administrative fee applies to this payment option.
9th graders have choices at Traveling Players! You can choose to either age up into the older age group, or stay and be a leader in the younger age group – either way you're sure to have a ton of fun!
If you're new to theatre, or if you just finished our Thespian Ensemble, we recommended that you stay in the 6th-9th grade program. Most of your friends from the summer will be here, and you will work with many of the amazing teachers you already know and love.
If you're looking for a new challenge, or if you were a part of the Shakespeare Ensemble, we recommend that you join our 9th-12th grade program.
If you're auditioning for the Winter Performances but don't know which group to choose, please attend the Dramatists audition. During registration, you'll be able to opt in to simultaneous consideration for the Thespians group.
If you have any questions about which program would be perfect for you please call (703-987-1712) or email (campdirector@travelingplayers.org) us and we will be more than happy to help you find the best fit!
What's a Pod? To fight the social isolation kids are feeling right now, some parents are choosing to "take camp" with another family. Both kids would be at one house with their laptops and headphones, either inside or outside. During breaks, they could kick a soccer ball, eat brownies, walk the dog, or help each other memorize lines. They could be at the same house all the time, alternate houses, or only Pod certain days of the week. We're calling these extended families "Pods!"
Form a Pod! If you're interested, just let us know (campdirector@travelingplayers.org) and we'll connect you to another family who is similarly interested. Then you can discover if you are both comfortable with the level of exposure in relation to coronavirus, if you live close to each other, and other logistics. We recommend keeping your Pod tight and consistent, and taking appropriate precautions as outlined by the CDC.
Separate Studios: Already have two or more campers in your home? Congrats! You already have a Pod! If the campers are in different ensembles, then they should each have a Studio of their own (separate rooms, trading off with one person working inside and the other outside). If campers are in the same ensemble, than they can work in the same room but each camper should wear wireless headphones to avoid feedback while still allowing the campers freedom of movement.
Thank you very much for making this COVID-19 summer so special and unforgettable for me. When I talk to friends outside, who have been bored all summer, I realize how lucky I have been. Boredom never entered my life this summer… only fun and new challenges!

— Student