Go to plays at local theatres along with other students and Traveling Players staff.  Ride in a purple bus (or meet us at the venue).  We offer field trips throughout the year.  Yes, parents can sign up for field trips as well!
Modern Retellings of Shakespeare!
Sunday, October 17, 6:00pm at Woolly Mammoth Theatre Company
641 D ST. NW, WASHINGTON, DC 20004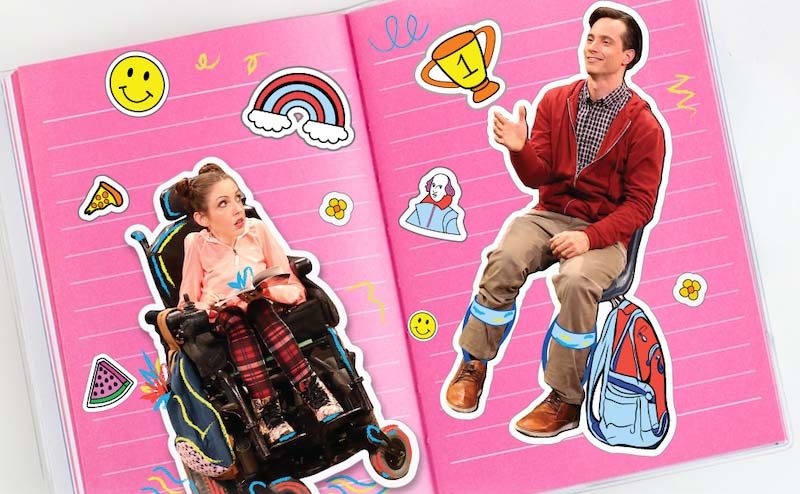 6:00 pm — View & Discuss Art in Lobby Gallery — where our very own photographer, Jessica Wallach, exhibits her photos of the disabled experience. She will join us!
7:00 pm — Closing performance of Teenage Dick by Mike Lew, a modern, darkly comic re-telling of Shakespeare's Richard III set in the most treacherous of places — high school.  Bullied because of his cerebral palsy, Richard is willing to crush his enemies in order to become senior class president. But all the scheming, manipulation, and revenge plots force him to ask the age-old question: is it better to be loved or feared?  Sometimes trying to blend in is not enough for someone ready to stand out. Run time: 100 minutes  (no intermission)
Content Transparency: This production includes depictions of suicide, violence, and ableism (including negative stereotypes and slurs) and discussions of abortion and its stigmatization.
"Initially planned for June 2020, we were well into final designs and only a little over a month away from rehearsals when we had to postpone this show last season because of the coronavirus. This hysterical and riveting reimagining of RICHARD III showcases the self-loathing that comes from social rejection, especially for disabled youth. It feels so important to have this show back in our season, especially given the contemporary resonance of conversations about bullying on social media, and the toxic masculinity we are witnessing all over our country. This show also demands that all of us reevaluate our rhetoric surrounding the disabled experience."

– Maria Manuela Goyanes
Artistic Director, Woolly Mammoth Theatre Company
Tickets: $30 (for pre-performance discussion plus play)
Getting There: Please get yourself there — drive, metro or walk. Purple buses can't park downtown!
Who can join? HS students, alums, staff, and parents in the Traveling Players community, with or without your kids!
Please note: Entrance to any event at Woolly Mammoth will require proof of vaccination or, for those who are not vaccinated, proof of a negative COVID-19 PCR test taken within 72 hours of the event start time.
Maryland Renaissance Festival
Travel back in time, immersing yourself in Renaissance street performances, food, songs and fun!  Our annual field trip will take in high-quality street performance, beautiful handicrafts, and of course, cheesecake on a stick.
Saturday, October 12, 2019
Rain or shine!
The Details
Bus Times:  Purple bus picks up at McLean Pizza at 9:00 am and at Pyle Middle School at 9:30 am.  Evening dropoff is 4:30 pm at Pyle and 5:00 at McLean Pizza.
What to bring:  Bring a lunch to eat on the bus, your water bottle, and $15 for food.  There will be food, souvenirs, clothing and jewelry on sale; your child could happily spend an additional $5 to $500 if you're willing to part with it.  Wear shoes you can walk in on uneven terrain.  Bring rain gear. 
Age limit: you must be at least 12 years old or in 7th grade to participate. 
Faculty chaperone/bus driver: Jeanne Harrison
Cost: varies by age of student (please bring ID if you are age 12-15 to ensure the lower rate)
Age 12-15: $65 ($55 before Friday, Sept. 13 at midnight)
Age 16 and older: $75 ($65 before Friday, Sept. 13 at midnight)
Maryland Renaissance Festival (annual trip!)
The Miser, Moliere — Faction of Fools
Pericles, Shakespeare — Folger Shakespeare Library
The Winter's Tale, Shakespeare — Shakespeare Theater Company
Twelfth Night, Shakespeare — National Theatre (online)