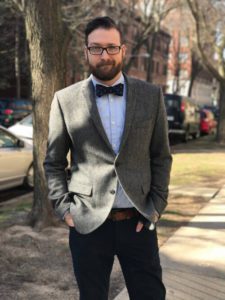 Scott Davis (he/him) is an award-winning regional and international designer whose breadth of work includes theatrical productions, international tours, illustration, and commercial design. His theatrical design work ranges from intimate, immersive engagements to large-scale productions, including the development of several new musicals.
Scott was on Traveling Players' staff from 2005 – 08, designing, constructing, teaching and touring.  We will remount two of his designs this summer — our Jesters' Love for Three Oranges and Shakespeare Troupe's Taming of the Shrew. Additionally, he designed our Tudor Stage, which might get constructed outside our Tysons Studio this winter.
Scott is a co-founder of Brass Ink Studio, a Chicago-based design firm that focuses on commercial design projects, museum exhibits, and restaurants. He is also a guest lecturer at Northwestern University and an adjunct faculty member at Columbia College Chicago.
Scott received his MFA in Stage Design from Northwestern University.