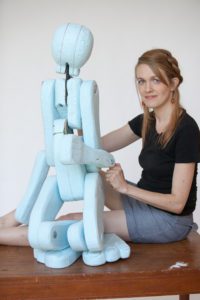 Carter is the daughter of an electrical engineer and an elementary school/learning differenced teacher — and that explains a lot about her! A puppet-maker, physical theater performer, and erstwhile lighting designer and theatrical electrician, she loves the spectacle of theater and introducing the improbable and the imaginative into everyday life.
Her teaching began with music for K- Grade 2 where she connected strongly with the Kodaly hand signs and noticed that the students did as well. Now when she teaches anything, it involves a kinetic component, and approaches the topic using as many senses and as many learning methods as possible. 
She was trained by Eric Bass and the Sandglass Puppetry Institute in Putney, VT; Antonio Fava and the Stage Internationale di Commedia dell' Arte in Reggio Emilia, Italy; and Dody Disanto at Center for Movement Theatre in Washington, DC. She holds a BA in Theater Studies from Marlboro College in Marlboro, VT. Her internship was with the Contemporary American Theater Festival in Shepherdstown, WV and she attended the Yale School of Drama.
She is a Teaching Artist with the Arts and Cultural Heritage Division of Maryland National Parks and Recreation where she conducts specialty classes and plans lessons for students aged 7-15 and adults in the DMV. She also teaches for Capitol Hill Arts Workshop and Friends Community School.