Shakespeare had Queen Elizabeth, Moliere had Louis XIV, And We have You!
2020 has been a year challenging year for us all!  Together we've navigated the COVID-19 pandemic, learning new ways to make a difference in the lives of youth.
A year to remember for all its challenges, it's also been a year of successes.  Traveling Players continued to enliven kids' summers and emboldened their performances – albeit it virtually. We even expanded programming; but most of all, our campers found friendship, adventure, and fun.
None of this would have been possible without you – our loyal community and donors.
Looking ahead to 2021, we need your help to support youth through continued COVID restrictions.  Your donation will help fund our programs, staff, purple buses, and scholarships as we explore all options to return to the great outdoors this coming summer.  Longer term, we are investing in our future at the Studio in Tysons Corner Center, strengthening our year-round staff, and enriching our innovative programming.
HELP US BY DONATING TODAY!

Together, we can make a difference!
Thank you!
All donations are tax deductible.
NEW: The CARES Act allows individual taxpayers to take a deduction of up to $300 for cash donations to nonprofits like TPE.  Please consult your tax advisor for details.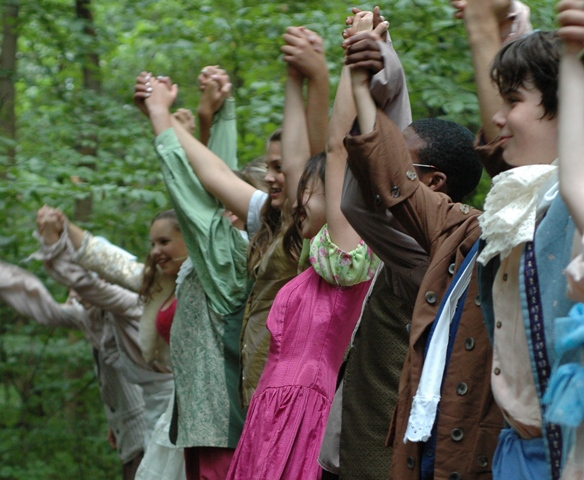 Traveling Players Ensemble complies with the Association of Fundraising Professionals (AFP) Donor Bill of Rights.
A Round of Applause for our 2020 Donors!
♥ ARTSFAIRFAX
Dorothy Dickman Trust
∞ Macerich/Tysons Corner Center
∞ ♦ Google-Adwords
Fairfax RISE/Fairfax County Govt
∞ INOVA Health Systems
♦ Virginia Comission for the Arts
Anonymous
∞ Molly Kaufman
Allison May & Ky Tran-Trong
The Nora Roberts Foundation
Charlie Brown & Molly Moses
♦ Dimick Foundation
Loral Patchen
Jason Pletcher & Jamie Abrams
Bobby Crerar & Peter Garrett
Lisa Grossman
♥ ☺ Carolyn Mollen
♦ James Rivera
Meg Sebastian
♦ Andy & Lynn Shotwell
♥ The Sparta-Hattaway Family
♦ ☺ ∞ Kelly Sprissler & Ray Payne
The Tucker Family
♥ ☺ Anonymous
Heidi Allen
♦ ☺ Virginia & Jed Barry
♥ ☺ The Carmel~Jessup Family
♦ ☺ Robin & Bob Carroll
Amber Dungan
♦ Jennifer & Eric Engstrom
♥ ☺ Jeanne Harrison
♥ Marie Milnes-Vasquez & Tony Johnstone
# Omidyar Network Fund, Inc.
Erik Ronningen
Roopal & Atul Saran
♦ ☺ Matthew Stevens
♥ Margie Sullivan
♥ Joel & Felicia Vargas
# VISA
♥ Anne & Jon Ashwell
Mary Au & Tony Greco
Anne Gable & Jeff Lee
♦ ☺ Molly Gimmel
Anne Gross
Megan Klose
Kristen McConnell
Karen & Mark Morey
Catrin Morris & Chris Miller
The Mullet Family
♦ Amy Regas & Brad Conver
Tanya Seliazniova
♦ ☺ Valerie & Paul Singer
Julia Smith & Brian Frickert
Kathy Wang & Darien Kindlund
♦ ☺ Mark and Pat Whittle
Anonymous
♦ AmazonSmile Foundation
Cara Arnold
♥ Mike & Leslie Atkin
♦ Steven Babin & Pamela Nee
Jeff Brand & Kelly Chmielewski
Elizabeth Vilardo & Family
♦ Louis & Eva Caldera
♦ Ted & Haley Elliott
Amy Flanagan & Kevin Risdal
Kimberly Fondren & James Ward
Richard Greene
Wendy & John Hoskins
Bart & Chrissy Houlahan
♥ Joanne Hurt
Sarah Jebian
Melissa Jurgens & James Read
♥ Richard Koretz and Judy Bauer
Karen & Peter Mason
Daniel Masur
Christine & Allen Mccarley
Allison & Glenn Merten
☺ Michael Oosterhout
Tiffanie & Troy Pope
Theodore Ryan Robb
Virginia Roll
Gwen & Roger Sandberg
Michelle Shefter & Jason Hillman
♦ David Siu & Kathryn Linehan
Liz Sommerfield & John Sullivan
♥ Deborah Stein & Mike Lubrano
Kathleen Tatum
♥ ☺ Alison Tshikosi
♥ The Wald Family
♥ Sarah & Greg Wetstone
Julia Whiston
♦ Betsey Means Wills
Elizabeth Wrege
Abby Adler
Anonymous
Anonymous
♦ ☺ Kari Barclay
Debra & Vincent Benavram
♥ Sharon Callaway
Carol-Ann & Kevin Martin
☺ Chewey Delaplaine
The Deur Family
☺ Katie Elliott
John and Liz Feldman
♥ Jeff Feldmesser & Sheryl Hovey
☺ Helen Felker
The Fergusons
Jenna Fournel
Kevin Gross
Jessica Haney
Margaret & Kenneth Hawkins
♦ The Horner Family
Andrea Koppel-Pollack
Julie & Paul Lane
Gabrielle Maisels
Eileen Mandell
Beth & Walter Meyer
Kim & Chuck Miller
☺ Aviva Nemeth
The Niederstrasser Family
PayPal Giving Fund
Elly & Dan Perl
☺ Eleanor Robb
☺ Jeffrey Robb
Christina & Matthew Schneider
Norman Shore
♦ Jennifer & Ron Sinek
♥ ☺ Susan & John Sturc
Thomas Tillman
Anne Tyler
Karolina Walkin
♦ ☺ Genevieve & Tom Wall
∞   In-kind
#   Matching
☺   Camper, Staff, Alum, Board
♦   5-9 years of donations
♥   10+ years of donations
Give Gratitude to TPE's compassionate, talented, dedicated staff!
Our staff is the heart of Traveling Players.  They can bring a smile to an anxious face, bolster confidence in student, and challenge another who wants to climb higher.  Some Traveling Players staffers remain in your child's life forever.  Their impact will be remembered and felt – it might have been life-changing.

Most of our staff are alums, hoping to have a similar impact on a child's life.  We could never pay them enough.  The math for compensating those who transform lives just doesn't add up.  Most artists are gig workers and were especially hard hit.

At Traveling Players, we have continued to pay our staff, furloughing no one.  Our staff responded by taking on additional duties, and volunteering some hours each pay period.  In this liminal time of virtual learning, our staff adapted theatre curriculum to online, bringing joy, creativity and artistic growth back to our students' lives over Spring Break.  We are hosting Campfire Parties and virtual Field Trips — meaningful community experiences — to reconnect.

These artist/educators are working tirelessly on Traveling Players innovative programming for summer 2020 (which is truly happening! — more on that later this week).  Their resourcefulness and perseverance keep us inspired, as does the energy we receive back from you, our campers, parents, alums and donors. Thank you all!

We need your help to continue paying our amazing staff and offering exceptional programs. Like so many other businesses, we are facing daunting financial challenges as a result of COVID-19. 
We have already lost over $55,000 from foundations that typically support us but are redirecting their resources to the front lines of the pandemic.  We know that operating this summer will be expensive, as we will invest in additional staff, cleaning supplies and new logistical protocols.  And then there are the scholarship applications, which have increased.  We will not be able to do this alone.  We will need help. 
Please help ensure Traveling Players programs continue during this crisis, when restrictions are lifted, and afterwards!
If you are in a position to give, please donate today!
All proceeds will be directed to supporting staff.
No donation is too small or big.
THANK YOU!