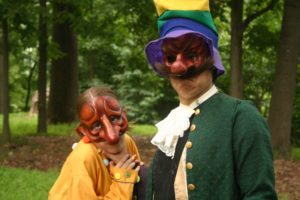 For Traveling Players Ensemble's two most advanced and challenging summer ensembles, an audition is required. But don't worry: our campers say TPE auditions are some of the most fun they've ever had! Just prepare a monologue or a short skit (depending on which ensemble you are trying out for), and we'll lead you through the rest!
Find out more about each ensemble's auditions:
Traveling Troupe offers a Shakespeare experience like no other, with a full-length, fully-produced show, challenging rehearsals, and an amazing two-week tour by bus and backpack.
Commedia Troupe is a nationally-unique program, which creates and performs an original play in the style of Commedia dell'Arte, touring it to stages throughout Virginia in a week-long tour.

Click here for general FAQ about Auditions!